In the realm of plumbing and electrical systems, the importance of brass fitting parts cannot be overstated. Suraj Brass Industries, a renowned brass fitting manufacturer in India, brings forth a comprehensive range of brass fitting types designed for robustness and reliability. This blog delves into the various brass fittings we offer and their diverse applications.
The Range of Brass Fittings Components
Brass Connectors: Serving as the bridge between two separate components, brass connectors are crucial in forming secure connections. Whether in complex machinery or simple household fixtures, the integrity of a system often depends on the quality of its connectors.
Brass Nipples: Small in size but significant in function, brass nipples extend or join piping systems, ensuring continuity and stability. Their resistance to corrosion makes them a mainstay in any setup that involves water or gas transport.
Brass Reducers: Transitioning between pipes of differing diameters is seamless with brass reducers. These fittings are essential in maintaining an efficient flow rate and preventing leaks, especially in heating and cooling systems.
Brass Union Fittings: For maintenance or future system upgrades, brass union fittings provide an invaluable service. They enable the easy detachment and reattachment of pipes, saving time and labor costs.
Brass Stop Plugs: To halt the flow or close off the end of a pipe, brass stop plugs are the fitting of choice. Their solid build ensures that systems are securely sealed, promoting safety and preventing potential hazards.
Brass Tee: The T-shaped brass tee fitting is a cornerstone in creating branches within a piping system. It allows for the directional change of fluids or gases, a necessary function in complex plumbing networks.
Brass Elbow: When a change in direction is required, a brass elbow fitting comes into play, redirecting piping systems without compromising on flow efficiency. This makes them indispensable in installations with limited space.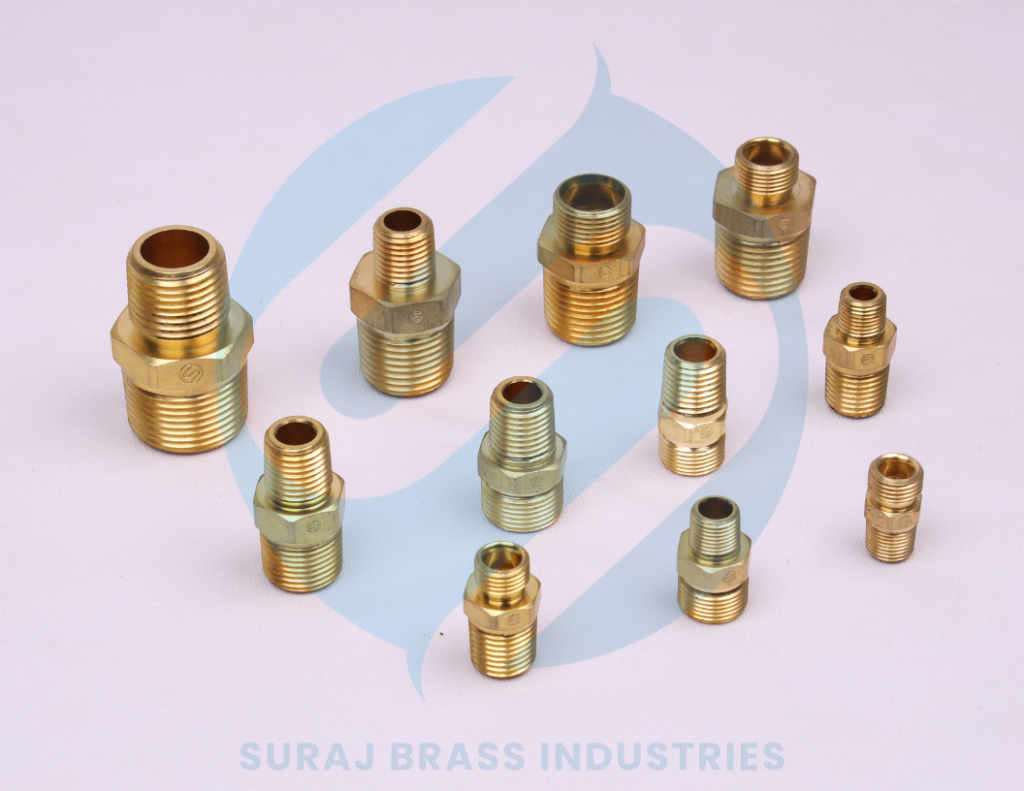 Leveraging Brass Fittings for Various Applications
Suraj Brass Industries' fittings find their use in a multitude of settings:
In home plumbing systems, brass tap connectors, tees, and elbows are frequently used for their durability and resistance to temperature variations.
Industrial applications often demand brass pipe connectors and brass terminal connectors for their superior strength and electrical conductivity.
For quick and easy connections, our brass quick connectors are favored in both pneumatic and hydraulic systems.
Why Choose Brass Fittings from Suraj Brass Industries?
Selecting brass fitting parts from Suraj Brass Industries means investing in excellence. As a leading brass fitting supplier, we ensure:
Precision-engineered fittings to meet global standards
A wide variety of fitting types for diverse needs
Customization options to suit unique specifications
Longevity and performance in every product
Conclusion
Brass fitting parts are indispensable in various applications, providing the framework for systems that our modern lifestyle relies upon. Suraj Brass Industries stands as a beacon of quality and innovation in this field, supplying a range of brass fitting types tailored for efficiency and built to last.
Embrace the reliability of expertly crafted brass fittings with Suraj Brass Industries. For your next project that demands uncompromising quality, explore our range of brass fitting parts and discover the perfect match for your needs.