We are the leading manufacturer of Brass construction parts. Home-grown products comprise various brass construction parts used in different hardware and industries. We have a specialized team of engineers who precisely develop every part with 100% accuracy.
Large scale production capacity of the factory offers qualitative and quantitative advantages for the buyers. A pre-production meeting is conducted to understand your requirements. Based on the requirements, samples are produced to ensure the parts fit the application accurately. Once the order is placed, the manufacturing team will produce high-end brass metal construction parts adhering to the supplied instructions.
Why choose Brass Construction Parts?
Brass metal is known for its natural quality of resistance to oxidation. Iron cannot be used in industrial factories where humidity or water exposure is most common. Iron rust when it comes to contact with the water. The strength of the iron-made metal decreases over time, causing the risk of breaking during the operation.
In contrast, Brass metals do not rush and provide similar strength that you get from iron. Hence, the metal could support your operation without any risk of damage.
A high level of safety can be achieved with brass metal products. Due to these facts, brass construction parts are the first choice when working in large manufacturing companies.
Additionally, the brass-made products come with an immaculate finish. Metal is easily transformed to create a product of any shape and size. Incredible long functional life offers less maintenance and lowers the cost to repair.
The characteristic of oxidation resistance enables the brass metal products to sustain longer without cracks or rusting. Every part is made specifically to meet the customer's expectations.
Brass metal products are used in various industries, from food to heavy construction machines. It is a reliable metal that delivers the highest safety and strength.
A rich history of the Brass
Since Brass was discovered by early human civilization, they have used brass metal for making tools and instruments. Brass is one of the metals that played a significant role in improving the life of ancient civilizations.
We have found ancient remains made of brass products during scientific discoveries. Brass products were preserved under the soil for several centuries. It shows that brass metal can sustain in the harsh environment as well.
During the Roman era, Brass was extensively used in military equipment and vessels, storing drinking water, and early currencies such as coins were produced using brass metal.
Because of these characteristics, Brass has become the first choice for industrial usage. Today, it is widely used in various industrial applications.
Brass metal is highly recommended in food production factories because of its oxidation resistance. Food or water can be stored with new operating brass metal components. It will not infuse harmful substances into the food, maintaining hygiene while increasing life.
Brass Construction Parts of Suraj Brass Industries
Suraj Brass Industries is a renowned name for producing a wide range of brass products used in commercial and industrial usage—home-grown production factories equipped with advanced technology capable of fulfilling the modern requirements of the companies.
Types of products manufacture in brass construction parts
Brass Anchor

Brass Tee

Brass Elbow

Brass Nipple
Every product is a design based on the end usage. The size and shapes are customized depending on the customer's requirements. We ensure the best premium quality brass products are delivered to our clients to advance their business operations.
The brain behind producing industrial brass parts is highly experienced in developing each component with precision. Every single order goes through the standard operating procedure where the companies can choose the type of products of any size and shape.
Our team will produce the necessary parts and deliver them to you by the deadline. We are committed to serving our customer's requirements as early as possible and keeping them on track to achieving their goals.
We will deliver products that exceed expectations through continuous innovation in the production factory and by enhancing the skill of our team.
Brass-made products in our factories are designed to sustain longer. The finished metals are made from the mixture of copper and zinc in the correct quantity to produce high-quality brass products.
It can be used in different applications, such as mechanical, chemical, and electrical equipment. Unique characteristics of the brass metal make it easily adaptable in all kinds of environments.
It does not react to other substances; therefore, you can incorporate the brass metal in your manufacturing factory to achieve greater output.
Moreover, brass metal is easy to cast, making it quick to mold and create replaceable parts during an emergency. You can place the order with Suraj Brass Industries, and our team will get on the job of producing the parts as per the provided information.
The delivery deadline will be set so you know when the product will be delivered to your desired location. The factories will support you in getting the product ready as early as possible to keep you floating and never face challenges with production.
Get in touch with us today to get the quotation.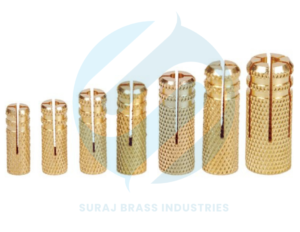 With The Par Of Excellence To Create Value For All Customers In The Arena Of Brass Metal Products!